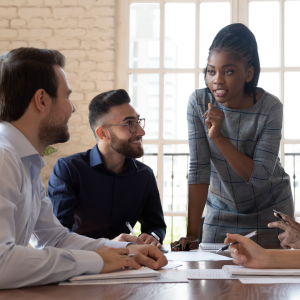 In today's challenging labor market, it is more essential than ever to be able to attract and retain the best employees.
Although we often hear compensation as a main motivator for leaving a company, one can argue that having a great manager leading them could prevent them from looking in the first place. According to research from Gallup, ineffective leaders cost their companies nearly two times the annual salary of every employee who quits because of poor management. Effective leaders increase employee retention, customer satisfaction, and improved productivity. That is why it is important to create a leadership pipeline.
Finding Leaders
Great leaders can be hard to find, but that is only if you do not know where to look. So where can you find them? Your own organization is a wonderful source of potential leaders. These individuals already know your business and have rapport with their coworkers and your customers, and leaders can be found in all sorts of roles, not just managerial.
Managers Versus Leaders
Too often we think management and leadership are interchangeable. Although managers are often viewed as leaders within an organization, the two roles encompass crucial differences. Managers focus on completing tasks by implementing processes. Whereas leaders are centered on a vision to guide change. They foster creativity, responsibility, and engagement to produce quality results.
Identifying Leaders
Leadership is a behavior, not a position. Leadership traits can be learned and developed with time and practice. It is critical that you look in all areas of your organization for leaders, not just those who are closest to the top. Casting a wide net and considering a variety of employees yields greater results and helps eliminate the potential for unconscious bias.
Ideal leaders share fundamental qualities, such as confidence, vision, honesty, and empathy in addition to being able to inspire and communicate well with others.
6 Steps for Creating Leadership Paths
Once you have identified potential leaders, the next step is working on opportunities that lead to leadership positions. Below are six main steps to consider.
 Identify Career Progression Needs
What are you looking to accomplish from the program? It is important to identify your organization's needs, not only for today, but also for the future.
Build a FrameworkReview your job descriptions to ensure they include the required competencies, education, experience, and credentials, along with any other necessary qualifications to best map out progression and individual's career paths.
Evaluate Employee Goals
Managers should discuss career goals and evaluate current skills, experience, and education with their team members regularly. Then, they should compare their current abilities and qualifications to their short- and long-term career goals to determine if there are any skill or experience gaps.
Develop a Communication Plan
Communication is essential for career planning programs. Employees that are aware of their opportunities or how the process can benefit them are more likely to participate. Increase awareness by communicating through multiple platforms, such as email, intranet, and organization and department meetings.
Develop Your Team
Provide and encourage leadership training such as, coaching, mentoring, leader-to-leader or group-based development, stretch assignments, and job rotations. Additionally, consider soliciting input from employees, allowing them to make meaningful decisions, and assigning meaningful projects that will help employees grow professionally.
Assess Program Results
Gauge and evaluate the program's success. Has the program met the goals you established, i.e., are you seeing a decline in turnover, an increase in motivation, or a more defined continuity plan?
Key Takeaway
Successful organizations see the potential of leaders outside of the traditional managerial positions and understand the importance of creating a culture of learning, encouragement, and advancement to improve retention, increase performance, and attract talented employees.
"The single biggest way to impact an organization is to focus on leadership development. There is almost no limit to the potential of an organization that recruits good people, raises them up as leaders and continually develops them." – John Maxwell