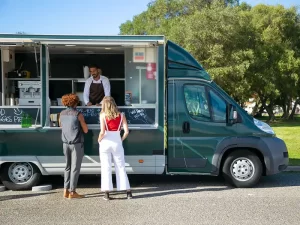 What You Need to Know About Commercial Auto Insurance
Commercial auto coverage insures vehicles that are owned, leased, hired or borrowed by businesses, whether they are associations, corporations, partnerships or sole proprietorships.
What Can Commercial Auto Insurance Cover?
Commercial auto insurance coverage can be used to insure private passenger autos and all types of trucks, trailers, semitrailers and commercial vehicles designed for use on public roads.
We can give you more details about specific coverages and deductibles and about tailoring a coverage plan that's right for you and your business.
Do I Need Commercial Auto Insurance?
Who is registered on the vehicle?

 If it is registered in the name of the business, you need commercial auto insurance.
How is the vehicle used?

 If you or your employees use the vehicle for business purposes, then you need a commercial policy. Even personal cars may need commercial auto coverage if used frequently for business purposes. Although employees' vehicles are covered by their own personal insurance, this coverage will take effect if an employee is involved in an automobile accident with damages that exceed the limits of their policy.
When it comes to auto insurance, there are numerous options on the market. However, not all policies are created equal. While the insurance policy with the lowest price might be most attractive to you, selecting an option solely on price might end up costing you in the long run.  Contact Webber Advisors to make sure you have the right coverage for your business.
Address
3107 Beale Ave., Suite 101
Altoona, PA 16601
Hours
Monday through Friday
8:00am to 4:00pm