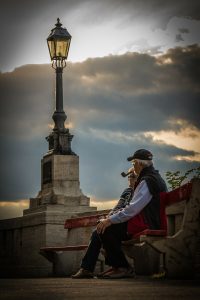 So much has happened in the last few days and weeks that I feel like months have passed. Social distancing is now on everyone's lips. And the goal is noble: flatten "the curve" and prevent more people from getting sick from the Coronavirus.
The impact, though, is being felt in so many ways by so many people: Schools are closed and parents need to stay home to take care of their children and can't work. Restaurants, bars and local retail shops are shuttered, and all the people who own those businesses or work there or supply them are in financial peril as well. Many, many people are not only worried about getting sick, but worried about whether they will have a job to return to and if they can pay their bills in the meantime.
But I want to shine a light on a financial lifeline—a solution—you may have forgotten about. Permanent life insurance. Many people buy it for its lifetime protection. It's often a "set it and forget it" solution. But the beauty of this financial tool is what it does while you aren't paying attention to it: It accumulates cash value. Money—money that you can tap now to help tide you through this financial uncertainty.*
Mike Jaap owns a successful recycling business. When the last major financial crisis hit, he thought his business was doomed. Fortunately, his financial advisor had helped him put a permanent life insurance policy in place, which he was able to tap to see him through that tough financial time and keep his staff employed. In essence, his life insurance saved his business. You can watch his story here.
If you currently have a permanent life insurance policy (not a term policy—click here to understand the difference), contact your insurance agent or financial advisor and talk through how you can tap into that money. You can often access it in days. Or you can contact your insurance company directly as well.
You may not remember the conversation you had with your insurance agent or advisor when they talked you through the benefits purchasing permanent life insurance. But I can tell you with 100% certainty that one of the reasons they wanted you to have this coverage is so that right now, in a time like this, you could access that money—that cash value—to be OK financially. They did their job well then, and you can enjoy the benefit of your good financial decision now.
[*Keep in mind that if you withdraw or borrowing funds from your policy, it will reduce its cash value and death benefit if not repaid.]
By Faisa Stafford
Originally posted on lifehappens.org